Deliverables
Branding, Messaging, Website, Marketing
Integrating 17 different companies into a single cohesive story and web presence (without losing any existing brand equity) is enough to make an agency leak oil from their pan gasket. But that's what we were asked to do when AP Emissions merged with Centric Brakes to form APC Automotive Technologies.
Adding to the challenge was the need to consolidate data from multiple sources to create both a seamless parts lookup tool and a distributor location finder. We knew we had our work cut out for us.
After auditing each of the individual brands, we started to notice a pattern. They were all talking about similar things, just in different ways. Whether it was touting their manufacturing excellence, innovation or value, the core message was simple – our parts are built to fit all your needs. "Built to Fit" became the central idea that informed all of our messaging and imagery moving forward.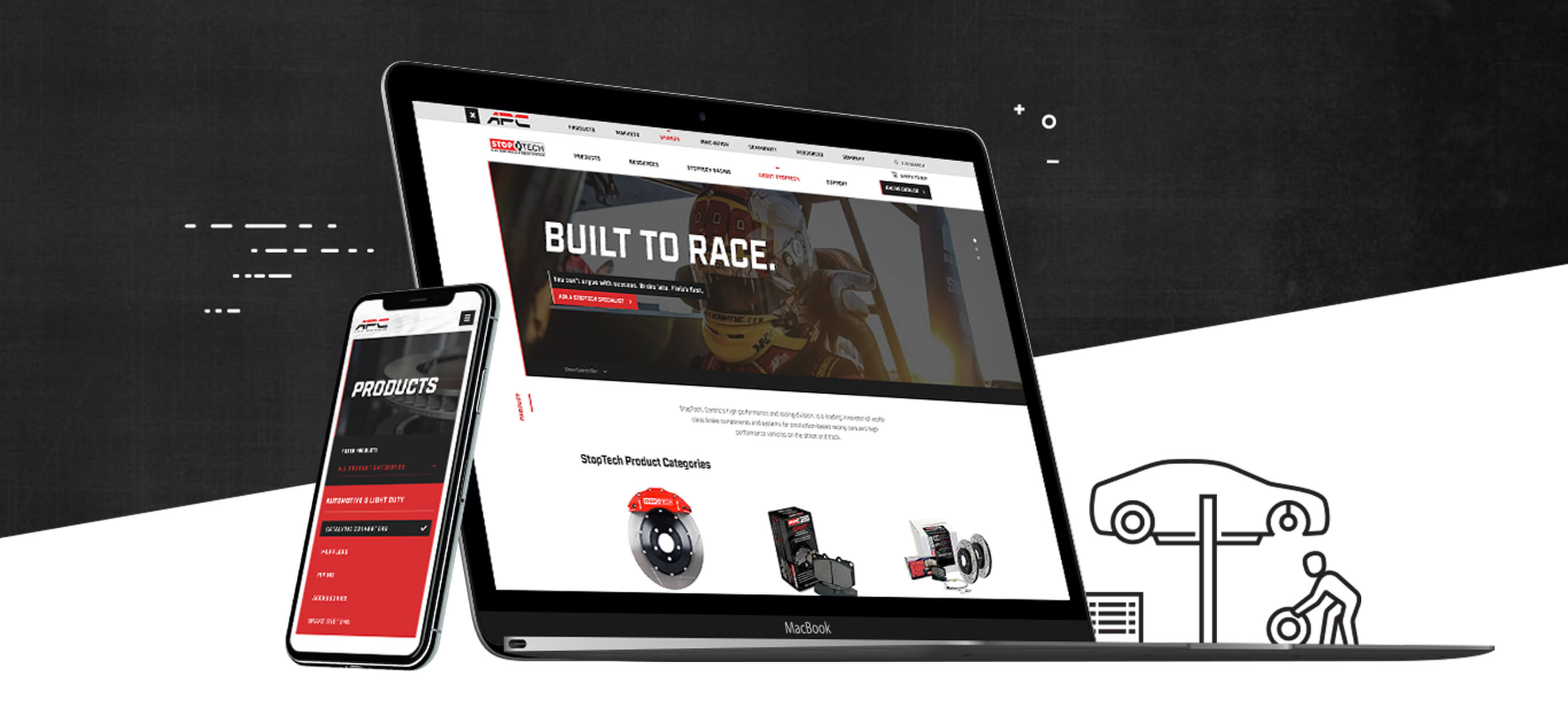 While the larger brand story was always a focus, we also needed to have an understanding of what customers were looking for from the newly integrated company. After extensive research and usability testing with distributors, technicians and DIYers, we found that while they appreciated slick design and content, what they really wanted to do was find the part they were looking for and where to buy it.
As our back-end developers worked on integrating the various web services and data sources, our designers and UX specialists updated the information architecture and navigation based on our usability findings. But the real win was the completely redesigned parts lookup tool. It now offered a seamless, best-in-class product search experience that worked effortlessly on both desktop and mobile.
Increase in organic traffic
With the right mix of customer insights, brand strategy and technical chops, we helped APC align disparate brands under one roof. Since launch, organic traffic and conversions have continued to climb. And subsequent usability testing revealed that 3 out of 4 users now prefer the APC site to their three leading competitors. In the end, we can say we found all the right parts for a new brand, with no prior brand recognition, to lead the pack into the future.
Next Case Study
Seeing the Unseen
How do you show off the capabilities of a product that is literally invisible? Through a first-of-its-kind virtual reality breakthrough.
View Case Study