As we enter a new decade, we take a look back at some of the biggest digital marketing trends and events of the 2010s to examine the evolution of digital marketing.
2010
Instagram
On 6th October 2010, Instagram changed the world of marketing forever. The app currently has around one billion users, with over half of accounts using it at least once per day. With 80% of accounts following at least one business, you can see how the platform has become a marketing go-to for reaching audiences. From owned media to sponsored posts, SMEs to conglomerates, Instagram has become a platform that offered reach and engagement to those who mastered its use.
2011
Aldi's 'Like Brand Only Cheaper'
Aldi launched its tongue-in-cheek adverts in 2011, refusing to add "a sheen over real life". The adverts intended to convince the British public that its cheaper alternatives where as good as recognisable brands. However, those in the commercials would blatantly state that the branded tea was 'just a good' – a refreshingly honest approach in the advertising industry. Marketing Week and YouGov partnered to find that it was deemed the best ad of the decade, followed by Channel 4's 'Superhumans' and John Lewis' Christmas ad 'The Long Wait'.
QR codes
Despite having been first used in Japan in 1994, QR codes made their way to the UK and US in the last decade. Although QR codes had been used in the West for a few years prior to 2011, this was the year that marked the height of the technology – and also its demise. Apparently, 14 million people, or 6.2% of the total mobile audience, in the US scanned the codes in 2011. Eventually, the codes were deemed a novelty and dropped out of use, especially as new tech – such as URL recognition – superseded it.
2012
Red Bull Stratos
2012 was the year in which Red Bull conducted its Stratos jump. The energy drink company often focuses its marketing campaigns on adrenaline-fuelled activities, but this time decided to take its project to new heights. Felix Baumgartner, a professional skydiver from Austria, jumped from a helium balloon 127,852.4ft in the air – with over 9.5 million users watching the live stream on YouTube. The video posted has since garnered 45.5 million views. Red Bull is the exemplar of how to reach an audience who aren't interested in your product.
2013
Google Glass
Google Glass 'launched' in 2013. There was no release date and the product didn't garner enough purchasing interest so launch was canned. Google sold prototypes during 2013, but no final product was ever actually purchased. The wearable technology has been deemed a marketing failure by the likes of Forbes, having no concrete advertising campaign and no clear message of who the product was for and what it could offer them. Google Glass, however, did have a relaunch in 2017, targeting the manufacturing industry.
Share a Coke
In the summer of 2013, Coca-Cola started personalising its bottles. The Share a Coke campaign saw the company print the most popular names in the UK on its drinks, which saw a frenzy of consumers trying find theirs on a bottle. Coca-Cola said it was one of its "most successful marketing campaigns" and the campaign saw hundreds of thousands of people taking to social media to share pictures and tweets about their name being on a bottle. It could be argued that this was the start of personalisation in marketing and advertising.
2014
ALS #IceBucketChallenge
2014 was the year in which celebrities and the general public alike were having buckets of ice-cold water thrown at them. The challenge aimed to raise money and awareness for motor neurone disease, and saw the US charity, ALS Association, receive $100 million in donations. The challenge gained a lot of attention online, with high profile celebrities such as Bill Gates, Lady Gaga and Benedict Cumberbatch all filming themselves and posting to social media.
2015
This Girl Can
Developed by Sport England, This Girl Can is an ongoing campaign that launched in January 2015. Aiming to encourage women to defy gender stereotypes and partake in sport and exercise, the ad features a video with a diverse selection of women. Focusing on jiggling body parts and sweat, the commercial portrays women as strong and defiant. The campaign also includes the hashtag #thisgirlcan, which was trending in third position on the day of the launch. This Girl Can won nine Cannes Lions, and Sport England's Director of Business Partnerships won 'Marketer of the Year' at the Masters of Marketing awards.
Ex Machina vs Tinder
During the SXSW 2015 festival held in Austin, a Tinder account was created for a woman called 'Ava'. Those who matched with Ava were questioned about their attraction to her, if they've ever been in love and "What makes you human?". Only later did users discover that she was a robot promoting an upcoming film about artificial intelligence (AI), Ex Machina. The film's marketing tactic received mixed reviews, with some accusing the scheme of being invasive and 'trolling', while others applauded the choice of festival and innovative approach.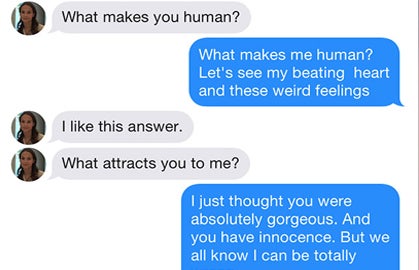 Endangered emoji
After discovering that 17 characters in the emoji alphabet were endangered, WWF launched the Endangered Emoji campaign. Using the continuing growth in social media use, the charity encouraged people to donate money every time they tweeted one of the 17 emojis. WWF would create a total every month, adding $0.10 for every emoji used. However, the total would only be suggested, with the payment entirely voluntary and flexible.
2016
Death of retail
In 2016, the iconic UK department store, British Home Stores (BHS), went into administration. For many, this marked the death of retail, with consumers heading online to shop. BHS was not the first retailer to go bust, with big names like Blockbusters and Woolworths collapsing in the years prior. Still, the closure of BHS was a significant moment – with the iconic shop symbolising the country's high-street.
2017
Personalised ads
Catering adverts to certain demographics was not invented in 2017. However, three years ago the advertisements you would see during ad breaks in Channel 4's on-demand video streaming platform 'All4' were changing. Channel 4 was responsible for launching the first video-on-demand (VoD) ad featuring personalised names. Developed by Innovid, the technology enables brands to use the consumer's first name in their online video ads, complete with personalised audio, sourced from Channel 4's first party database of logged in users. The tech was launched with ads for Alien Covenant and Fosters.
IKEA Place
The Swedish furniture retail giant developed an app using augmented reality (AR) to help customers try before they buy. The app enabled consumers to visualise what a piece of furniture would look like in their home before purchasing it. The app, developed using Apple's ARKit AR platform, offered a catalogue of more than 2,000 products. With IKEA having previously launch AR-powered technology in the past, the Place app promised to offer accurate scale and almost it's entire collection of furniture.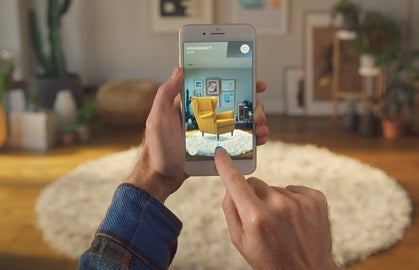 2018
GDPR
On 25 May 2018, the General Data Protection Regulation (GDPR) came into effect. Targeting how data is managed and stored, GDPR had a huge impact on digital marketing. The legislation states that companies must receive explicit consent to store and use consumer data, and as GDPR is an EU regulation, the risk of non-compliance has threatened to be detrimental for marketers. GDPR has impacted email marketing, targeted ads and data tracking but was not the giant cataclysm that many predicted.
Nike and Colin Kaepernick
Dream Crazy was released in September 2018. The Nike advertisement featured Colin Kaepernick, a former NFL player who refused to stand during the US national anthem in protest against racial inequality. Using the tagline 'Believe in something. Even if it means sacrificing everything', the bold advert received backlash as Kaepernick's actions remained controversial – with even the President of the US stating his dislike of the player and subsequently the campaign. However, the ad was ultimately a success, with Nike's stock rising by 5% in the weeks following its launch.
2019
The Best a Man Can Be
Last year, Gillette released an advert addressing the social issues surrounding men, such as toxic masculinity and sexual harassment. Using its tagline 'The Best a Man Can Get', the brand modified the slogan to 'The Best a Man Can Be' – asking men to improve their behaviour. Whether it was managing their own conduct or calling out and preventing the actions of others. However, the campaign received a negative response, with many men pledging to boycott the brand. The advert has received 33 million views on YouTube and is one of the most disliked videos on the platform, with 1.5 million dislikes.
Greggs vegan sausage roll
In 2018, Greggs launched the vegan sausage roll. The pastry was subject to a lot of hype – both positive and negative. High-profile TV presenter, Piers Morgan made the news as he broadcast a lot of criticism for the sausage roll, to which Gregg's responded on Twitter with humour – further driving a positive response. It was argued that the responses had been orchestrated by the brand, which they denied. Nonetheless, the bakery reported an 'exceptional' year for profits and has given £7 million in bonuses to its employees.
We hope you enjoyed our decade in review, and let us know your favourite digital marketing trends and campaigns if you think we've missed them.