Over the past decade, the way we interact with social media platforms, especially during times of crisis, has changed and as such social media has changed with it.
Like many consumer-focused companies, social media platforms react and adapt to our wants, needs and actions. In 2014, for example, Facebook introduced a 'marked as safe' feature which was inspired by people's use of social media to connect with loved ones in the aftermath of the 2011 Tōhoku earthquake and tsunami.
The current 'infodemic', a term recently used by The World Health Organisation (WHO) to describe the "rapid and far-reaching spread of both accurate and inaccurate information", has caused social media platforms to take action.
So, how exactly have social media companies and their users reacted to the current coronavirus pandemic?
Providing credible information & combating misinformation
During times of national or international crisis, people often turn to social media as a source of news and information. This is more prevalent than ever due to the coronavirus pandemic. In fact, a recent report from GWI shows that staying up-to-date with news and current events is the main reason people use social media.
Unfortunately, misinformation, rumours and 'fake news' around the virus and the global pandemic began to spread like wildfire across social media platforms. For the average user, separating fact from fiction became a much harder task.
Misinformation, especially during a global health crisis, is harmful and dangerous. Fake treatments, false cures and unsupported claims about the virus led to almost 800 deaths, 5,800 hospitalisations and at least 60 cases of permanent blindness, according to a study published by the American Journal of Tropical Medicine and Hygiene.
WHO cautioned that the 'infodemic' surrounding COVID-19 spread just as quickly as the virus itself. WHO Director-General Tedros Adhanom Ghebreyesus, said that: "We're not just battling the virus. We're also battling the trolls and conspiracy theorists that push misinformation and undermine the outbreak response."
To curb the misinformation on social networks, WHO teamed up with social media companies including Facebook, TikTok, WhatsApp and YouTube. Working closely together, their combined aim was to ensure that science-based health messages from WHO or other official sources appear first when people search for COVID-19-related information.
Prioritising official sources in feeds
To combat the spread and influence of misinformation, many social media companies took a proactive approach to promote reliable health-related information. Facebook introduced a Coronavirus (COVID-19) Information Centre in March 2020, which first featured at the top of people's news feeds. The COVID-19 Information Centre features news and updates from reliable international and national sources including WHO, the NHS and the DHSC, among others.
The creation of the COVID-19 Information Centre was to "ensure everyone has access to accurate information and remove harmful content" and to "support health and economic relief efforts". YouTube has also been encouraging users searching for coronavirus-related content to "get the latest information" from official sources, such as the NHS and the government.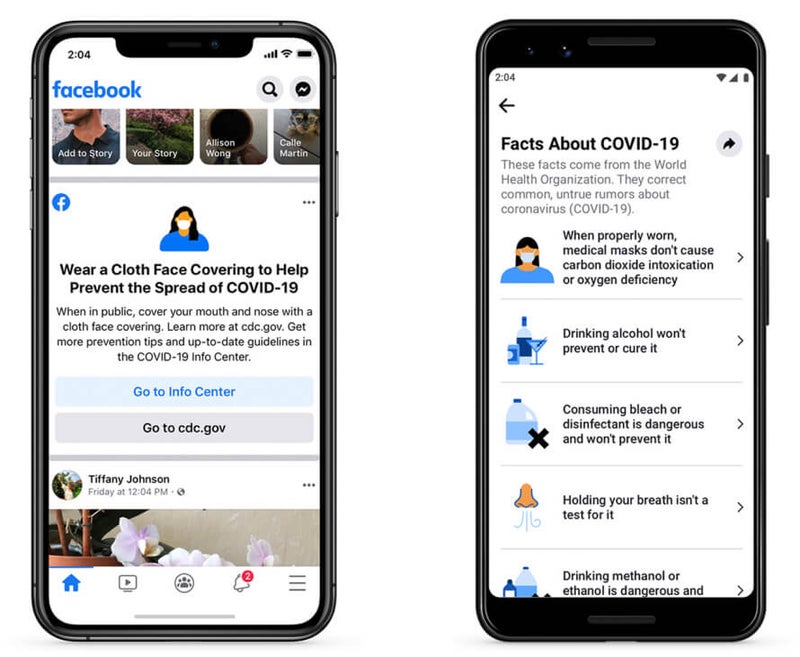 Limiting the spread of fake news
To tackle the spread of misinformation during the COVID-19 pandemic, some social platforms also introduced certain restrictions and limits.
WhatsApp
WhatsApp, for example, limited the number of forwarded messages a user can send and receive. This means that if you receive a message on WhatsApp that has already been forwarded five times, you will not be able to forward that message to more than one 'chat' at a time.
Despite people using WhatsApp's forwarding feature for good causes, such as organising public moments of support for frontline health workers, WhatsApp added that: "We've seen a significant increase in the amount of forwarding which users have told us can feel overwhelming and can contribute to the spread of misinformation. We believe it's important to slow the spread of these messages down to keep WhatsApp a place for personal conversation."
Twitter
In March 2020, Twitter attempted to tackle the spread of misinformation by adding labels and warning messages to "content that goes directly against guidance on COVID-19 from authoritative sources of global and local public health information". Despite these changes, Twitter has been criticised for not taking enough action against the increase of misinformation on the platform.
In response to this feedback and due to the increase of misinformation around the COVID-19 pandemic and the US presidential election on the platform, Twitter launched a pilot program in the US called Birdwatch. Birdwatch is a community-driven system that allows users to flag and annotate misleading or inaccurate tweets and provide informative context.
Preventative and actionable measures
While social media platforms give users the ability to spread misinformation about the pandemic at a rapid rate, they also enable the sharing of credible, reliable information from official sources. A single solution for abolishing the spread of misinformation remains to be seen, but the proactive, preventive steps social media companies have taken to minimise the impact is a strong step forward.
It's not only the duty of social media companies to promote credible information and minimise the spread of misinformation – it's our responsibility, as social media users. The United Nations initiative "Take care before you share" campaign is a great example of how we can help combat fake news. This innovative initiative is designed to encourage social media users to take the time to verify sources before sharing or forwarding content online.
In their own words, "we must all act now to break the chain and stop misinformation from spreading".
Read 'How to use social media effectively in your marketing' here
Are you thinking about changing the way you use social media? Email us at hello@www.gravityglobal.com to find out how we can help. Or let us know how you think social media has reacted to the pandemic. Tweet us @gravity__global and join in the conversation.