No audience is growing faster than the U.S. Latinx cohort. From GDP growth to population growth, entrepreneurship to purchasing power, workforce growth to digital media consumption, Latinx consumers are the demo that consistently over index in over indexing! In fact, if U.S. Latinx were a stand-alone country, it would be the 3rd fastest growing mature economy in the world1
As a businesswoman and an entrepreneur, I constantly follow the growth of the market, and the U.S. Latinx cohort is inarguably the demo that everyone should be doubling (and tripling) down on when it comes to future proofing and growing their brand or business.
The majority of U.S. born Latinx speak and consume content in English2, enroll in college at a faster rate than anyone1, launch more companies3, and enter the workforce at an unprecedented rate. In just 5 years, 1 out of every 2 new employees in the U.S. will be Latinx4. This is critical to keeping our economy afloat, as there is an unprecedented decline in the workforce, due to the fact that Baby Boomers are retiring at an accelerated rate of 330,000 per month5. This research is alarming but important to process, as we can't have a thriving economy with a declining workforce.
America is the only developed country in the world with demographic growth in its economy1. This means that the U.S. Latinx cohort provides America with a unique and unparalleled advantage over all other aging economies. U.S. Latinx are the youngest cohort (19 years old vs 39 for Non Latinx) growing 6 times faster than the rest of our population1 and expected to exceed one-hundred million by 2050.
66,000 Latinx are turning 18 every month in our country4. They are just beginning their productive careers, and will play a critical role in supporting retirement funds for ALL Americans.
Another important metric that matters to any business is consumption rate, and Latinx consumption rate is growing 72% faster than non-Latinx consumption rate1. Both brands and companies need to recognize how their consumer base has evolved, and understand that they can't continue to target them in the same way that they've been serving them for the last few decades. The underserved, under-estimated and under-invested markets from the past, are now the New General Market. At Gravity, we call them Consumer X, for they are valuable audiences that are hidden in plain sight that can exponentially grow any brand.
The best advice I can offer is that you connect with them in culture (not just language), touch them emotionally (and not just reach them), and make them feel like they belong (and not just politely invited, but essentially ignored). By doing this, you will be on your way to having a winning strategy to thrive in this new Mainstream Multicultural America, led by the explosive growth of your Latinx consumers.
To ensure that your company is prepared for where America's current and future growth is going, surround yourself with the right team to help you succeed. Steve Forbes in a recent interview was asked about his views on the current state of our economy, and his answer was clear: "Latinos are the cavalry that is coming to save the U.S. economy."
The infographic below clearly illustrates why the Latinx cohort is the most influential consumer group in the U.S.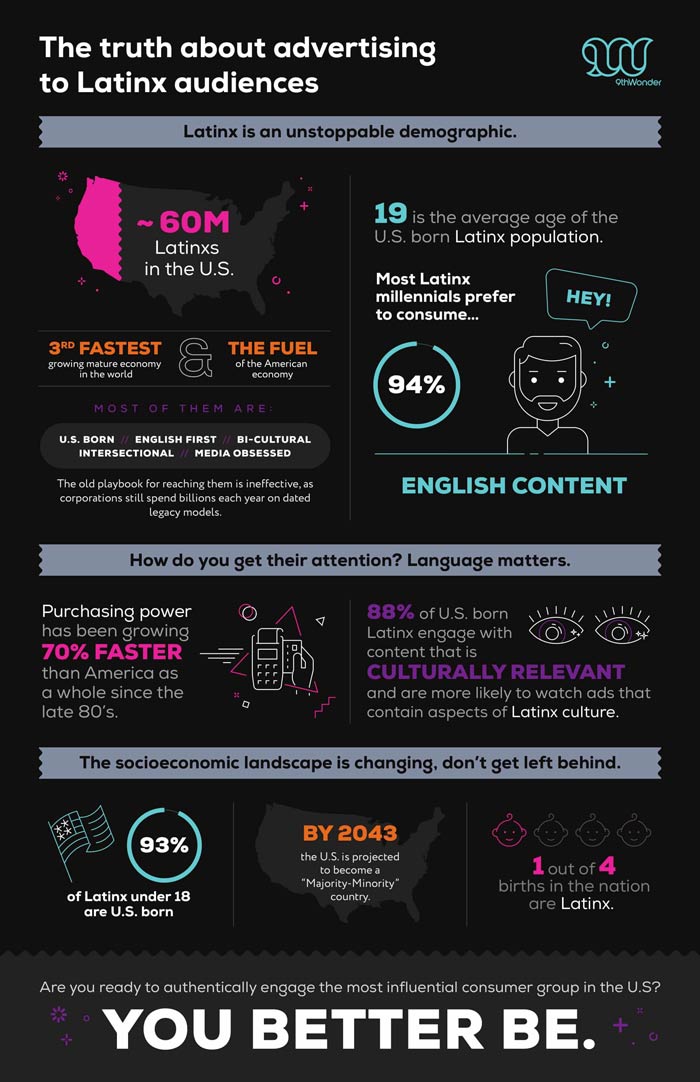 Sources: