Google is by far the most popular search engine, taking up over 90% of the market share globally. However, there are a handful of countries where Google is either unavailable or not the top search engine. These countries include China, Russia, North Korea, and, surprisingly, South Korea.
The top search engine in South Korea is Naver, which has a 51% market share, followed by Google at 41%. This advantage could be because Naver remains heavily focused on the Korean market while Google is a global search platform. Moreover, Naver offers an extensive suite of products and services specifically targeted towards Koreans.
Naver has become one of the most recognised brands in South Korea due to its constant innovation and specific targeting of the Korean market.
Before diving into our comparison of Google and Naver, be aware that Naver's dominance in Korea has declined in recent years. For example, Naver's market share was 74% in 2016, but dropped to 51% in 2022, while Google's market share has increased by 387.5% during the same period. Having worked with Korean companies in Seoul for over 10 years, I have seen the increase in urgency from many companies in Korea regarding having a stronger presence on Google.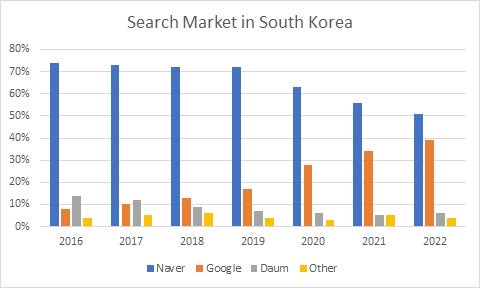 The rise in Google's search market share in South Korea started in 2013. A key reason for this shift is that in 2012, Google representative Matt Cutts convinced 80 Korean government officials, webmasters, and journalists to let Googlebot crawl their websites. Since then, more and more websites in Korea started to get indexed by Google.
Another reason is the rise of Android. In 2022, almost all Android devices come with the Google app pre-installed. Therefore, Android users in Korea are using Google more and more. Koreans tend to use Google more when seeking information on a particular topic, while Naver dominates for local queries.
Why is Naver so popular in South Korea?
Naver's popularity in South Korea stems from its unmatched understanding of the Korean language.
Korean is complex, with some words having multiple meanings. Its syntax also differs significantly from that of English. Consequently, Naver's algorithms place a lot of importance on the context of words. Because Naver's algorithms are indexing are tailor-made for Korean content and companies, they maintain a competitive advantage over Google, whose tech can't yet match this understanding.
Naver: an overview
Naver was launched in 1999 by a group of ex-Samsung employees. It was the first web portal in South Korea to develop and use its own search engine. Although Naver is mostly used in South Korea, it is still the 8th most used search engine in the world (behind Google, Bing, Baidu, Yahoo, Yandex, Ask, and DuckDuckGo). However, Naver is more than just a search engine – it also offers a variety of products and services focused mainly on consumers in Korea. Some of the most popular ones include:
Naver Mail – An email service offered by Naver. Each user gets up to 5GB of storage.
Naver Pay – A mobile payment service/digital wallet that allows users to send and receive money, make online/offline payments and store credit card information. It is considered the "PayPal of Korea" and has over 28 million registered users.
LINE – A messaging app for instant communication on smartphones, tablets, and PCs. It is the top messaging app in Japan and the 2nd most popular messaging app in South Korea behind Kakao. It has over 200 million monthly active users.
Naver Webtoon – A webcomic platform that provides webtoons and web novels. It currently has over 180 million monthly active users. In 2020, Naver acquired Wattpad, an online social reading platform where users can read as well as write original stories. Wattpadd is home to over 90 million people.
Naver Whale Brower – It is currently the 3rd most used web browser in South Korea behind Chrome and Internet Explorer, and the 4th mobile browser behind Chrome, Samsung Internet and Safari.
Papago – An AI web translation tool that can translate text and speech from one language to another. It is a predominantly Korean translation tool, so its Korean translations are much more accurate than Google Translate.
Naver TV – A video-streaming platform that offers a wide range of content, including web dramas, entertainment shows, news, and sports. Naver TV has over 30 million registered users.
Band – A group social-networking platform for group chats. Users can create groups with unlimited members to share information. There are currently over 19 million users on Naver Band.
Naver Maps – The top navigation app in South Korea. It offers information on public transportation like buses and subways, in addition to information on destinations. In addition, it offers better insight into local sightseeing, restaurants and other attractions when compared to Google Maps.
Naver continues to introduce new products and services to its users to maintain its lead in the Korean marketplace. As Naver mainly caters to Korean users, its presence in Korea will remain strong even as Google continues to increase its search market share.
The Naver homepage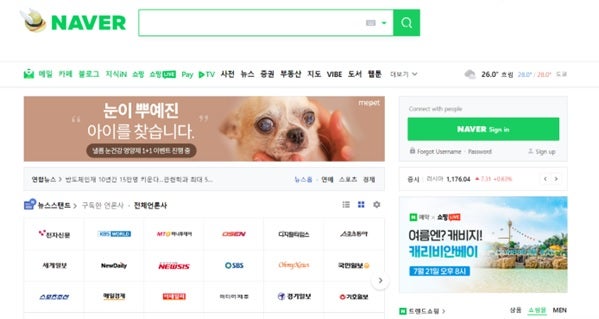 At first glance, Naver operates more like Yahoo than Google. Like Yahoo, Naver's overall layout looks more like a portal or directory, with an array of other services accompanying the search bar. As you can see from the image above, the site is dominated with ads and the latest trending topics.
Under the search bar, there are several vertical search categories. Like Google, Naver allows companies to run display and shopping ads to promote their products. However, brands have multiple options when advertising on Naver.
Naver SERP results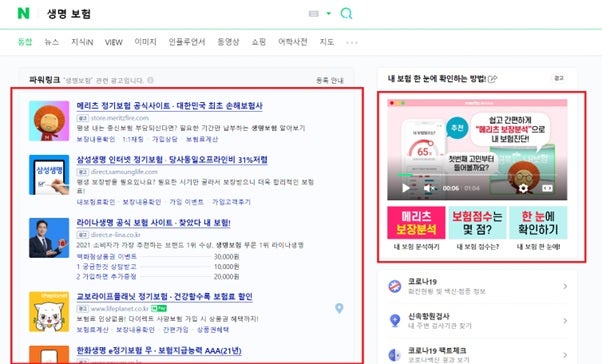 When doing a search for the term "Life Insurance", we see the layout of the search results filled with advertisements. While Google places 2-3 ads at the top and bottom of their search results, Naver ads fill most of the results.
Naver ads account for over 66% of the overall Korean digital advertising market. Brands want exposure to Naver's massive audience of over 45 million members with over 25 million Koreans having Naver as their home page on their default browser.
It is not until we scroll more than 50% of the way down that we begin to see organic results.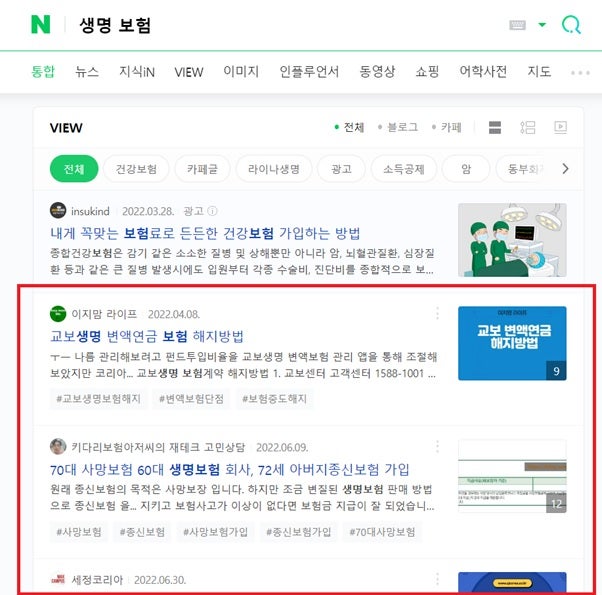 Compared to Google, Naver gives more of a priority to content created through their platform. Outside of the paid results, it is very common to see results created on Naver Blog, Naver Café, and Naver Knowledge iN. Other search engines are not allowed to search Naver's platforms.
Let's investigate these services in greater detail, as they are vital to understanding Naver SERP ranking results.
Naver Blog – Naver Blogs are heavily promoted by Naver. This is Naver's way of supporting bloggers. Any user that sets up a Naver Search Advisor account will automatically get a blog. There are currently over 31 million blogs on Naver. This is more than half of the Korean population.
Naver Café – This is Korea's equivalent of Reddit, a community-based service that hosts a ton of user-generated content. This is where Koreans come to share information. Content can be filtered based on categories, location, rankings. A single account can make up to 300 cafés (posts). To date there are over 11 million cafes running on Naver.
Naver Knowledge iN – This is the Quora of Korea. It is a Q&A platform where users can post questions and answers are voted up or down by other users.
Since Naver prioritises content created through these platforms, it is very difficult for an international brand's website to rank high organically. It is often the case that a company's Naver Blog will outrank their website for many branded search terms. Therefore, any Korean digital marketing strategy needs to have Naver Blog, Naver Café, and Naver Knowledge iN in mind.
Naver's algorithm explained
It is important to understand that Naver's search algorithm is built around the Korean language and seeks out relevant results from Naver's content through Naver Blog, Naver Café, and Naver Knowledge iN first.
Naver's algorithm is made up of:
C-Rank – C-Rank stands for Creator Rank. It is used to determine the credibility of the content. It evaluates quality, authority, and user engagement for Naver Blogs, Naver Café, and Naver Knowledge iN.
P-Rank – P-Rank considers a websites crawlability, mobile-friendliness, site structure, backlinks, internal links, and social media signals.
Deep Intent Analysis (DIA) – The DIA algorithm puts more value based on engagement from users. It is combined with C-Rank to ensure credibility as well as quality. Some of the factors the DIA algorithm looks for include search intent, topical relevancy, user experience, uniqueness, timeliness, and content quality.
AI Recommendation System (AiRS) – AiRS is Naver's own AI-based personalisation service. Its aim is to get a better understanding of what searchers on Naver are looking for online and give them personalised results. It uses Smart Block grouping to segment the searchers based on their personal interests.
How SEO differs on Naver compared to Google
Though Naver is called the "Google of Korea", SEO differs between the platforms. If you want to optimise a site for Naver, you're going to need a different SEO Strategy and a different site-buildout strategy. Critically, an effective Naver SEO must look beyond SEO and instead consider how Koreans engage with the internet.
Let's break down some of the key differences between SEO for Naver and Google. Moreover, the SEO tips have been reviewed by JK Song, CEO of Punch Drunk Marketing – one of the top Naver SEO digital marketing agencies in Korea.
All content must be in Korean
Content should all be in Korean as Naver does not follow hreflang tags. This includes widgets, sidebars, menus, footers, and important in-image texts. Brands can't target Naver using other languages outside of Korean. Translations do not work. Make sure all content is professionally proofread by someone whose first language is Korean.
Register your site on Naver Search Advisor
While Google offers Google Search Console, Naver offers Naver Search Advisor. Like Google, users can submit their ROBOTS.TXT file as well as request Naver to index/crawl your site. However, Naver Search Advisor can only monitor a site's crawlability and indexability over the last three months.
Here's what JK Song has to say: "Getting your Blog officially verified by Naver may result in higher rankings for your blog posts. Verified Blogs get an 'official' checkmark from Naver. However, it may be necessary to get a Korean business registration to get your Blog verified."
Submit an XML Sitemap on Naver Search Advisor
Sitemaps are critical on Naver. Naver Search Advisor only reads XML sitemaps and only one sitemap can be submitted per site.
Host your site on servers in Korea
Google's service targets the entire world. Naver, by contrast, offers higher ranking to sites with servers located in South Korea, in addition to sites with content written in Korean. Moreover, Google and Naver both give higher rankings for websites with fast loading speeds. For a site to load quickly for users in Korea, it needs to be hosted on a server in South Korea.
Another option would be to use a Content Delivery Network (CDN) based in South Korea. CDNs are cloud-based services that facilitate localised distribution of content, reducing the distance between the searcher and the site.
Create a sister site ending in .kr or .co.kr
Instead of trying to rank your .com site high on Naver, it would be a better strategy to create a new sister site ending in .kr or .co.kr on a host server in Korea. It will not only give you a considerable boost in loading time, but all the content on the site can be in Korean without having it affect your global site.
Indexing a site on Naver could take a few days
It is very easy to get indexed by Google, especially if a site has a few high-quality backlinks pointed to it. However, on Naver, it takes up to several days to index a site. Indexing on Naver can be sped up through marketing and PR, as these can increase the demand for the site by generating searches, which are positive user signals to Naver.
Meta tags are key signals for Naver
Google has taken steps away from meta descriptions, tags, and keywords, and focused more on content based on relevance, quality, and user intent. However, Naver remains focused on classic SEO factors such as meta descriptions and tags. In addition, depending on the keyword, Naver generates a list of related searches or suggest keywords on the right side of the SERP results page.
All images must have alt-text
Naver can't process images as well as Google. Google uses AI image recognition technology software to help identify relevant images without having to rely on the alt text. Since Naver isn't as strong on this front, alt-text on images, file names, and captions are crucial to ranking in image results.
Post regularly on Naver Blog, Naver Café, and Knowledge iN
To have a strong search presence on Naver, it is vital to be active on these three platforms. Therefore, you need a fluent Korean speaker to create content geared towards Korean consumers. Original content is key – posts translated from other languages are unlikely to perform as well as ones conceptualised with the Korean language in mind.
Create content based on Naver SERP results
When targeting a particular keyword, you need to type the keyword into the search bar and see which Naver platform shows up #1. For example, if a Naver Blog comes up first for the search query, you need to create content for your Naver Blog for that keyword. If Naver Knowledge iN comes up, you should focus on that instead.
Do keyword research with Naver Data Lab
Naver Data Lab is the Google Trends of Korea. It's home to the Naver keyword tool, which allows you to filter search queries by gender and age. Moreover, Shopping Insights allows marketers to find popular search terms daily. There is a comments tab to see what people are commenting about. All tracked keywords are displayed with search volumes. Under the research tab is where you can look for keyword ideas, related keywords, and topic ideas.
"It is of utmost importance to do keyword research in Korean before you write content to a Korean audience. Google Keyword Planner often misses important keywords, so it is recommended to use tools like Naver Keyword Planner to find (long-tail) nuggets of information and do keyword grouping," says JK Song.
Get backlinks from within Korea
While Google puts more weight on high-quality backlinks from high-authority sites, Naver places more weight on backlinks coming from South Korea. Users can monitor their site's backlink profile on Naver Search Advisor.
Why target the Korean market?
South Korea has the world's 12th highest GDP at $1.5 trillion. Korean consumers are tech savvy and well connected. More importantly, they are eager to purchase the latest trending international products compared to other countries in Asia. The untapped potential for international brands is clear to see.
Still, many international brands find it challenging to enter South Korea due to a lack of understanding of Korean culture and traditions. In addition, there are precious few digital agencies that can navigate Korea's digital marketing space. The Korean language is a big challenge, as is the hyper-localised search landscape.
Though there are challenges when looking to enter South Korea, if international brands have the right partner, they can test the market and localise their marketing strategy before investing fully into company incorporation.
Having a better understanding of Korea's top search engine is critical for companies looking to enter South Korea. As South Korea is recognised as the trendsetter of Asia (tech, fashion, beauty, entertainment, etc.), it offers untapped potential for international brands that hope to penetrate the wider Asian market. If they are successful in South Korea, it is highly likely they will find success across the continent.
If you'd like to find out more about Gravity Global's SEO services, and how we can help your strategy, click here.