Have you ever gone to catch a train without looking at the departure times first? Probably not. Most people would rather not take the risk, especially when the information is easily available. So why would you create a digital marketing strategy without a competitor analysis?

Competitor analysis offers guidance and direction to the type of activity you want (or need) to perform. It's also time-consuming, meaning you need to be as efficient as possible in your research. That's why we've created this straightforward guide for marketing managers on how to structure your competitor analysis, and what tools to use.
Using competitor analysis strategically
To create a meaningful, robust strategy, you need to conduct a deep level of research. Without it, you're in danger of experiencing two shortcomings:
creating a strategy based on incomplete evidence, and heading down a wrong path, or
failing to create a strategy at all, and working without a cohesive plan.
Neither is desirable.
"But I've spent days in my Google Analytics account and I've got all the information I need," I hear you cry.

Well, it sounds like you've made strong progress – you've obviously got a great understanding of your own website. But what about your competitors? Why should you stay on top of their activity?

Because without this knowledge, you'll end up working in a vacuum, oblivious to the world around you (and wondering why your CEO is suddenly questions about your own marketing.)
Consider this…
… a dive into your own analytics shows that the site is making steady progress. Traffic and conversions are increasing, and users are engaging with your content.
Great news all round, right? Well, maybe not.
Without comparison against your competitors, how do you know if your results are good? Your industry may be seeing strong results across the board, and your competitors' increases may be larger than your own.
At this point you realise that your website, although greatly improved, isn't achieving everything it could be.
Competitor analysis should feed into your decision-making at the earliest stage possible – when conducting a SWOT exercise, for example. And using the wealth of data available will allow you to make decisions based on facts, rather than "gut feel".
The magic number
The number of competitors you should research will depend on the competitiveness of your industry. A marketing manager of a gambling website may need to consider many competitors, for example. Someone working in a more niche industry can look at fewer.
As a rule of thumb, we suggest analysing at least three. This should give you a good understanding of your position in the market, and allow you to pick up key learnings to apply to your own campaigns.
To get a rounded view, ask a few staff members which competitors you should analyse. Also include an aspirational brand from your industry, or even outside your industry, to feed even more opportunities into your plan.
Structuring your competitor analysis
Smart Insights has created several marketing frameworks, including RACE. RACE is particularly useful when applied to competitor analysis. It stands for:
Here are a few ways you can apply RACE to competitor benchmarking.
Reach
What are your competitors' big numbers?
Similar Web can help with traffic and channel breakdown. And a look at your competitors' social media channels will give you a good sense of the volume of their following and how often they are posting content.
The following tools and methods can help to inform this section of your analysis:
Brand search trends analysis
A brand search trends analysis is where you compare the volume of searches that you and similar companies are getting. Whether the search volume is increasing or decreasing is also important, as it gives you an idea of a competitor's online performance.
If the search trend is declining, it's likely that interest in your competitor is declining also – an opportunity you'll want to seize!
Brand search data is available through Google Trends. Simply type in the brand names you want to compare: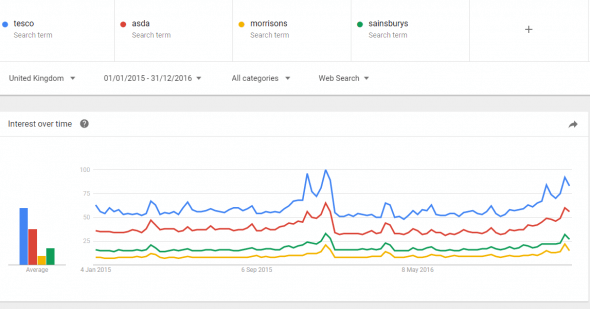 You can also Google Trends to compare specific products: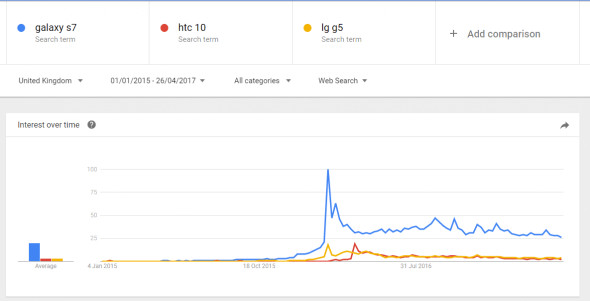 Competitor keyword research
Tools such as SEMRush or SearchMetrics allow you to easily see what keywords competitors are organically ranking and bidding for.
By comparing your competitors' keyword list to your own, you can spot potential gaps and opportunities in your campaign. You can also get an idea of what your competitors are spending.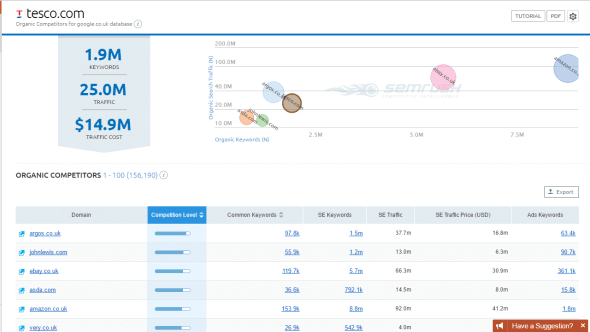 You can also track keyword rankings for your competitors. Tools like STAT or Advanced Web Ranking allow you to compare search engine results pages (SERPs) to see which competitors are ranking higher than you and with what content.
Backlink analysis
Link-building is a crucial component of organic search performance. You can use tools such as Majestic SEO or cognitiveSEO to understand your competitors' backlink profiles. You can see what links they're getting, and monitor their Domain Authority, Citation Flow and Trust Flow.
Act
Visit your competitors' websites and take notes:
How easy is it to navigate and find what a user might be looking for?
Can you get to useful content or contact details easily?
What does it look like on a smartphone?
What landing pages are evident?
Convert
Imagine you're a first-time visitor to your competitor's site:
Is the path to conversion (purchase, download, sign up etc) straightforward?
Are there obvious drop-out points in that path?
Are there clear signals of trust and are they strong enough to encourage you to convert?
Also analyse their on-site messaging to determine if it reflects their paid advertising. You can use Ad Preview Tool to review competitors' ad copy and ad extensions in a 'non-live' environment: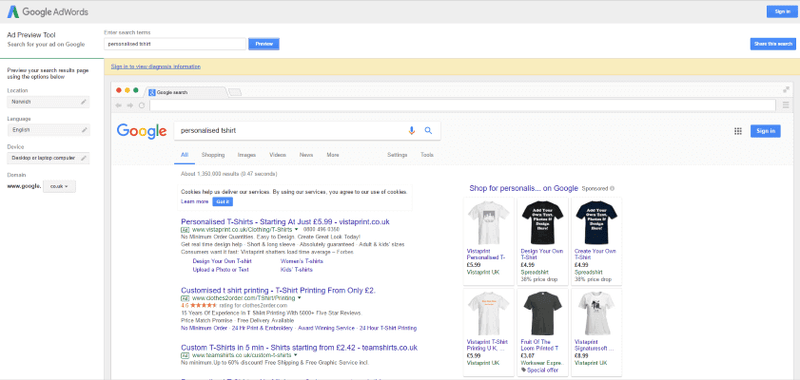 Engage
Can you sign up for a newsletter and, if so, what is the messaging? Is there evidence of customer personalisation? How are they engaging with followers and customers on social media?
Tools such as Buzzsumo enable you to see what content your competitors are producing that is getting a high number of social shares. This is particularly useful if you want to do a Facebook, Twitter or LinkedIn campaign.
Buzzsumo also allows you to see other people are writing around a certain topic: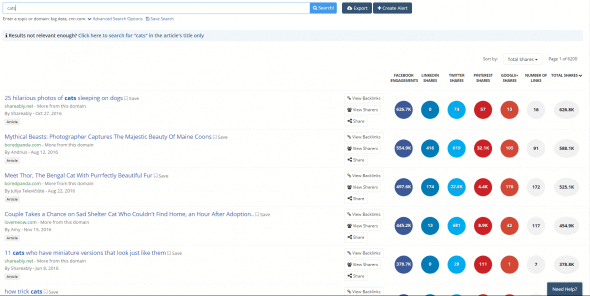 RACE provides a good starting point for your competitor analysis. By regularly carrying out such research you'll not only stay on top of your competitors, you'll also learn what does and doesn't work for you, and how to adapt and improve your own analysis.
Ongoing competitor analysis for paid search
In paid search, competition is very much 'real-time' – it's rapidly changing. If you're delivering a paid digital campaign, you or your PPC agency should keep an constant eye on your account. A direct competitor in paid search would be someone bidding and appearing for the same search queries as you.
The most used method for monitoring how your ads are doing compared to your competitors is running an auction insights report in Google AdWords. For each player, the report will indicate:
impression share
average position
overlap rate
position above rate
top of page rate
outranking share
This guide has provided an overview of competitor analysis for digital marketing campaigns. By using knowledge of your competitors strategically, you can seize opportunities, and get ahead in the race against them.
Find out how far the Gravity Global – Performance Marketing team can take your business by getting in touch using the following contact form, by emailing hello@www.gravityglobal.com or by taking a look at our services.