Just because a digital marketing strategy works in the West, that doesn't necessarily mean it will translate to Asia. China, in particular, can be a tough nut for marketers to crack. In the domain of search engine optimisation (SEO), the biggest barrier is the Baidu search engine.
Baidu is China's Google. Google may have a global market share of 84%, but in China its presence is minimal. Baidu is very much the default choice for Chinese internet users, facilitating some 70% of the nation's searches. When you apply that percentage to China's 1.4 billion-strong population, you're looking at a lot of potential customers. But if you want to reach them, you need to understand how Baidu works.
Establishing yourself in Baidu's rankings is easier said than done. I spent 10 years covering start-ups and small and medium-sized enterprises (SMEs) in South Korea, over which time I witnessed many attempts to break into China. Some were successful – but many more failed.
Fortunately, I've had the opportunity to discuss SEO strategy with many of the business leaders who did successfully make the leap into the Chinese market. And I have insights to share! In this article, I'll give you 10 Baidu tips that will set you up for SEO success.
Baidu Basics
First, here are a few general guidelines to bear in mind when creating content for Baidu:
All content should be in simplified Chinese characters. Whereas traditional Chinese consists of over 50,000 characters, simplified Chinese uses just over 8,000.
Make sure to have fewer than 32 characters in your title, and aim for around 3,000 characters with your content. 3,000 characters is equivalent to around 1,800 English words.
As with Google, the number of backlinks and referring domains are ranking factors for Baidu, as well as whether your site is mobile friendly.
Now let's get into 10 SEO tips to help rank better on Baidu.
1. Get an ICP License
An ICP license is a state-issued permit which allows a China-based website to legally operate in China.
Getting an ICP license is not a strict requirement, and your site will still rank on Baidu without it. ICP licenses are issued by the Chinese Ministry of Industry and IT. However, you can only get one if you have an office registered and located within China. Without an ICP license you cannot host your website on a Chinese server, which will hurt your site's load speed time.
Many start-ups in South Korea that have entered China display their ICP license on the site. There are myths that say Baidu ranks sites with visible ICP licenses higher in rankings, but this has never been proven. Still, if you do get an ICP license it can only be a potential benefit to display on the footer of your site.
2. Use HTTPS in China
HTTPS stands for Hypertext Transfer Protocol Secure. The "Secure" part of its name refers to a security feature that encrypts the data being transferred over the internet between computers and servers. The old standard, Hypertext Transfer Protocol (HTTP), was vulnerable to hacking – which is why it's being phased out in favour of HTTPS.
Before 2017, Baidu only crawled sites with HTTP. Back then, it was vital for all sites to use this protocol rather than HTTPS. However, in 2017 Baidu started to crawl HTTPS URLs. Now, more than half of the ranking pages use HTTPS. Given that Baidu has officially confirmed it uses HTTPS as a ranking factor, the share of pages using HTTPS will increase in years to come.
3. Answer questions on Baidu Zhidao and Baidu Zhihu

Facebook, YouTube, and Google are all blocked in China, along with other Western mainstays like:
LinkedIn
Netflix
Yahoo
Zoom
WhatsApp
Twitch
Skype
Instagram
Snapchat
Quora
Baidu prioritises content hosted on properties they own. Accordingly, many of the search results for informational queries come from Baidu Zhidao and Baidu Zhihu.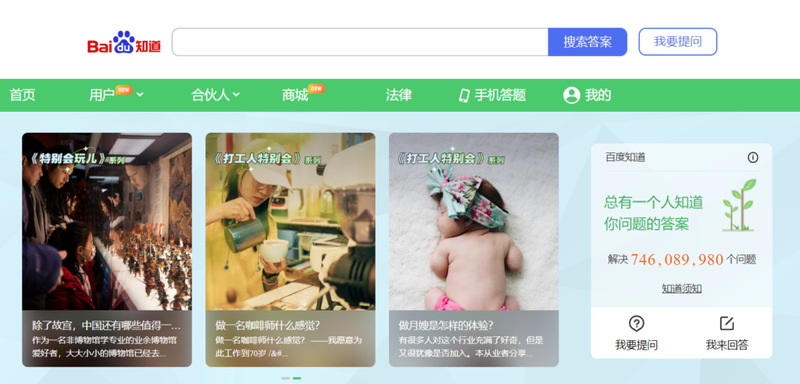 Baidu Zhidao is China's largest question and answer platform. It's comparable to Quora and Yahoo Answers in the West. They have a wide range of content covering everyday topics for a broad audience as well as niche, business-related content. As Baidu Zhidao often ranks high for many search queries, proper consideration of this platform is a must for any company looking to promote their brand.

Baidu Zhihu is a similarly well-regarded question and answer platform. It is known for having strict rules regarding user behaviour and spam. Many of the answers given on Zhihu tend to be longer and have deeper insights.
Many start-ups and SMEs in South Korea stated they spent an average of 2 hours on these two platforms answering questions related to their niche. They found out quickly that it was much easier to rank for certain long tail queries through these platforms than creating content on their website and having the website rank for these queries.
4. Get your Brand on Baidu Baike
Baidu Baike is the Wikipedia of China. Many of the search results will feature Baidu Baike near the top of the rankings (typically in position 1), so it is crucial for brands to have a page on this platform.
The content on Baidu Baike is heavily censored. Editors are required to register accounts with their personal information before they can create or edit articles on Baidu Baike. Additionally, Baidu Baike administrators will review and edit articles before they become public, making sure they accord with Chinese government guidelines.
5. Exact match for keywords is not important
Gone are the days of spamming your content with the exact match keyword repeatedly. That's true for Google and it's true for Baidu too.
While it is important to have the exact match keyword in the title (preferably at the front), it is more important to make your content sound natural. Excessively mentioning the exact match keyword could even have a negative effect and drop your rankings. Instead, focus on the individual characters or pairs of two characters in the content.
Remember, your goal should always be creating the best user experience. Baidu is a business, and they want to deliver good results to keep their users returning time and again. They're wise to SEO professionals trying to game the system – so don't attempt it!
6. Be concise
When you search for 'best car insurance' on Baidu, a high-volume commercial query, the top result is the below post on Baidu Zhidao. The answer is short and to the point.

What happens when you do the same on Google?
The result is a very detailed long form article – over 7,800 words!
The lesson here is that Baidu, unlike Google, isn't fond of spotlighting long-form deep dives. Most Baidu results focus on one highly specific topic – this is probably why Q&A platforms like Baidu Zhidao and Baidu Zhihu do so well.
So, if you're adapting long-form guides for the Chinese market, it's best to dissect them into smaller, more digestible pieces of content. These bite-sized snippets lend themselves well to Baidu Zhidao, Baidu Zhihu and social media channels.
7. Lists Rank High
The Korean start-ups that found success in China tended to prioritise a certain kind of content: listicles without a numerical ranking.
These companies noticed that Baidu search results gave priority to articles in list form – but looking deeper, they noticed that these lists were unnumbered and unordered. So, when it comes to lists, opt for the unordered version.
8. Add fresh new content and add it to the top of an existing page
Baidu gives priority to websites that update their content frequently. More so than Google, in fact. Many Korean companies with Chinese websites noticed that their rankings started to drop after just a couple of weeks of inactivity.
Because publishing content every day is a big ask, many startups instead opted to add fresh new content to the top of existing pages and republish them. This signalled to Baidu that the page had been updated. While such practices aren't a substitute for publishing fresh content, they are nevertheless worth doing on days when you don't have anything new to share.
9. Having non-Chinese social media on websites does not affect rankings
There is a myth that having links to your Facebook, Twitter, YouTube, or other social media accounts that are blocked in China from your website will hurt your rankings. This is not true.
Run a simple search on Baidu and you'll find that many of the top results include these social media links on their company site or article. What really matters is that these features do not break or slow down your page. The vast majority of Chinese users know these links won't work for them.
10. Use .cn only when tailored to the Chinese market
One of the top questions when it comes to creating a website for the Chinese market is whether to use a .cn domain. Our recommendation is to only use .cn if the site is being tailor-made for the Chinese market. If your domain is targeting multiple markets – perhaps using a translation plugin to serve up localised content – stick to your original domain.
It's worth stressing the benefits of using a .cn domain. Doing so is a great way of signalling you are all-in on the Chinese market, and that you're actively catering to Chinese users.
With that said, Baidu is adept at finding websites with simplified Chinese content, no matter the domain. Because Baidu doesn't let you use the hreflang tag to specify the geographical target, it relies on the content-language HTML attribute. So, as ever, content is king.
The Chinese market is huge and growing
In order to play catchup after the COVID-19 pandemic, China may well open itself up to more international business in 2023. Western businesses should see this as the huge opportunity it is.
Add to that China's massive growth in their e-commerce tech, both on the hardware and the software side, and the opportunity becomes even more tantalising.
It won't be plain sailing, of course. Even for Korean companies, success in China was far from guaranteed. Global brands looking to establish themselves in China need strategies for localized branding, communications, e-commerce and logistics.
Baidu SEO is an essential piece of that puzzle. Get it right and you'll see major rewards.
To find out more about our SEO expertise and services, contact us.
Related articles:
Baidu has recently announced they are launching a ChatGPT style AI bot