Gravity Global's framework for brand communications through the Covid-19 crisis
Covid-19 is a crisis of a nature and scale that businesses and communicators have never had to face before and are having to quickly adapt to deliver a suitable response. Right now, we see brands communicating business as usual and simultaneously expressing the Covid-19 impact on their operations and customers, causing a dissonance in their communications.
Gravity has developed a communications response framework to enable companies to navigate the crisis, to pivot their communications, and plan what to say, when to say it, and how to say it.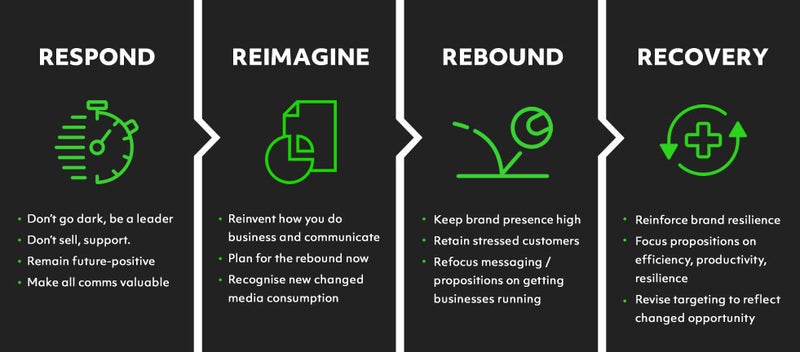 Respond
This is the phase we're in now. Lack of any past experience is leading to some knee-jerk responses and a search for guidance
Don't go dark – data shows brands that maintain activity and profile in times of economic crisis recover quicker
Keep high profile brand presence to demonstrate resilience and leadership
Ensure all communications adopt a suitable, empathetic and non-commercial tone, and remain positive about the future
Make all communications valuable to the recipient – offering advice, sources of information, relevant offers or support
Consider channel usage – social, TV and radio increasingly consumed by audiences based at home, OOH should be dropped
Reimagine
Some businesses already entering this phase to redesign their business to cope with the crisis and its aftermath.
Reimagine how you go to market more efficiently and effectively
Recognise that customers/prospects are already changing their business models and potentially changing demands, many extending through recovery to be the new normal
Plan for the rebound and get new marcomms messages and assets in place – rebound could arrive quickly, and neither pre-crisis nor Respond Phase messaging is likely to be appropriate, so early consideration of your marcomms' ongoing stance is needed
Rebound
A likely consequence of removal of lockdown conditions is a short term response to pent up demand hitting some sectors. Not expected to be the new normal, but a short-lasting phase
Recognise that the rebound could be rapid and arrive sooner than conventional marcomms planning cycles can deliver
Ensure high profile brand presence as your competitor landscape may be very different as a result of the crisis and businesses may be looking for new suppliers
Put measures in place to retain existing customers who may find introductory deals from competitors to be more cost effective than maintaining their current supplier
Where feasible, focus messaging, and relevant product/service promotion and deals on support for recommissioning customers' businesses (and in ways that assist cashflow management)
Recovery
Whether this incorporates a major recession or not, this is likely to be a long term phase where fragile demand trends upwards, with new business requirements and practices reshaping the nature of that demand
Initial pent-up demand during the Rebound phase is likely to drop to a more gradual recovery level
Brand messaging will remain critical as supplier longevity and resilience will be important, possibly increasingly so
It is likely that businesses will favour suppliers able to support their business efficiency, productivity and resilience – propositions and demand messaging should be adapted accordingly
Customers and prospects who were once leaders in their sectors may lose market share to more resilient businesses – new business targeting should be adapted accordingly
Please share with anyone who would find this helpful.