As a non-profit dedicated to fostering a world of longer healthier lives, the American Heart Association is paying particular attention to the impact of the novel coronavirus on those with or predisposed to cardiovascular disease. In fact, the AHA has already committed $2.5 million to researching the implications of COVID-19 on those with heart disease.
But the AHA knows that true wellness doesn't stop at caring for the heart. It also requires a focus on the soul and overall health of our communities. The feelings of isolation and helplessness that come with dealing with a pandemic can also have a lasting impact on health. To help encourage acts of kindness and volunteerism between people across our nation, AHA asked Gravity to help them launch a campaign aimed at bringing people together (metaphorically) during this difficult time.
Be Proud to Do Good
While helping others can have an immediate impact on those on the receiving end, research has shown that generosity and positive acts can also have tangible health benefits for the person doing the good deeds as well. In fact, things like volunteering have been linked to lower blood pressure and decreased mortality rates. Using this insight as a guide, Gravity presented AHA with a variety of concepts supporting the idea that being a change-maker and an influencer for good not only helps others, but provides the do-gooder themselves with purpose, control and positivity.
After landing on a direction, we all agreed that the inherently shareable world of social media paired perfectly with this type of campaign. The AHA would suggest inspirational ideas and share user-generated content (UGC) celebrating acts of kindness using the clear, action-driving hashtag #ShowUsYourGood.
Adding Video for Maximum Impact
Initially, we were only asked to create social posts, digital banners and website copy to support the campaign. However, after creating a series of mood videos to help them better understand our vision, the AHA team felt that they were so impactful that they wanted us to develop the videos into actual assets for the campaign. In the end, the videos became a central asset in helping to spread our message.
#ShowUsYourGood Online
The campaign launched on Friday, 17 April, and immediately began spreading the goodness. In addition to sharing their own content, the AHA also worked with us to amplify user-generated posts that used the hashtag as well. But the campaign didn't stop there. We also used digital display advertising to drive users to a landing page to find ideas on how they could spread good within their own communities.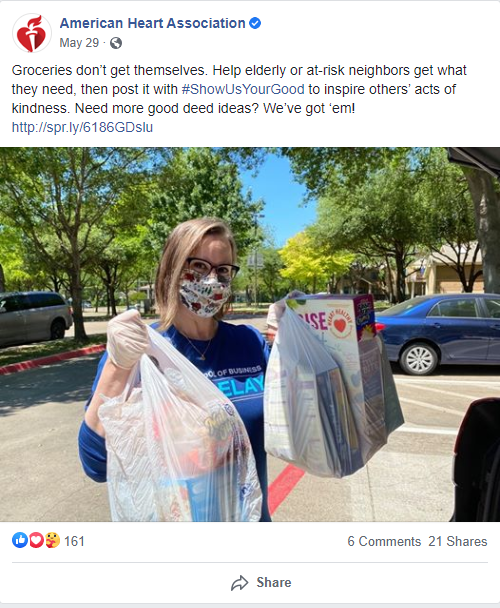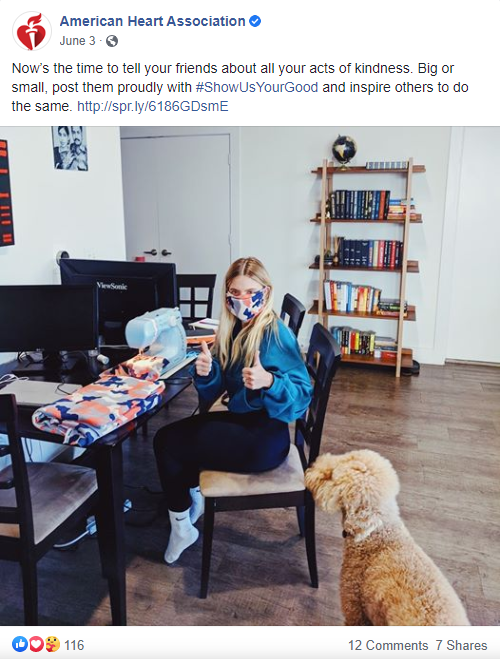 Want to reach a larger audience while the world seems to have gotten smaller? Drop us a line. We love the good that comes from a bigger idea.